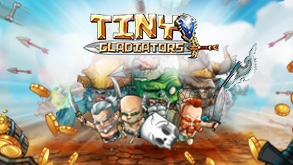 Tiny Gladiators
fighting for glory is an exciting journey in this game as you fight against powerful enemies and discover new virtual worlds. Take care!! Your enemies will become more as you approaching to the end in every stage in this unique action RPG games. Your opponents will destroy in this dynamic skill based fighting game using unique sets of armor and weapons. In this published version you can pick from 4 different virtual character classes in this one of a kind PVP online game. You can also have this version on google play in MENA region.
Not only you can learn powerful new combat skills but also gear up to protect yourself in this fantasy PRG game. While most RPG games are limited in animated character options, Tiny Gladiators features a wide variety of outfits, skills and many unique pieces of weapons and armor including medieval weapons. You can even use these for protection or to launch attacks on your enemies.
You will go on fun and exciting single player challenges. This game, google play gives you an option to Shift into your street fighter mode and start Tiny Gladiators' fighting game!!! When you finish the single mode player you can start a battle with your own friends or other people around you. Feel the best moments and rise in the global ranks of Tiny Gladiators' top fighters in this high adrenaline multiplayer RPG by preparing your deadliest abilities in this published version game in MENA country.
In the virtual world of the tower, you will find the greatest dangers in the game that has published on google play. Strap on your survival gear and try to make it long enough in the tower by defeating multiple enemies in a row! Each player gets one free pass to the Survival Tower, after that you will need to use you're in-game earnings – Take high-risks and earn high rewards in this one of a kind combination between RPG games and fighting games in MENA region.
You have access to this game on Medrick studio game website. Have fun!