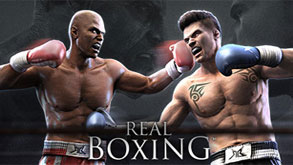 Real Boxing
Time to box & KO others in this boxing app! Vivid Games, the studio behind well known online fighting games on mobile, puts on the boxing gloves and presents the original KO boxing simulator that won the hearts of punching games fans worldwide! Enter the ring and let's box together!
KNOCKOUT GAMEPLAY IN THE ULTIMATE FIGHTING GAME
Fight using a variety of punches and combos in a knockout boxing app game. Box to up your fight game and tip the odds in favor of your boxer with power-ups. Feel every jab, hook and KO uppercut thanks to the most intuitive controls in multiplayer fighting games on mobile. They may be coming from kung fu or UFC roots, but you've got the boxing gloves: whatever other opponents' fight games are, you'll always box like a boxeo boss, like Rocky.
COMPREHENSIVE CAREER IN THE TRUE BOXING SIMULATOR
This fight game is a challenge: knock out over 30 unique boxers with their own adaptive boxing styles in a full-blown career mode to become a true boxeo champion, the best boxer in the world! Welcome to the true fighting game on Android.
REAL-TIME MULTIPLAYER
Become a boxeo challenger and enjoy hundreds of hours of a fighting game fun in the feature-packed Real Boxing multiplayer mode. Knock out rivals from around the world or play with friends to settle this once and for all: who will be the one to deliver the final knockout? And who will be the one to throw away the boxing gloves and walk away covered in shame?
YOUR REAL BOXER, READY TO BOX
The fight night is coming, so get ready: customize your own boxer with dozens of unlockable hairstyles, tattoos, and gear. Train in a variety of boxeo mini-games as your fight game gets better and better. In this fighting game you'll face off against challengers as tough as Rocky Balboa!
WEEKLY TOURNAMENTS
Feel the adrenaline rush in Weekly Tournaments, featuring prizes like unique powerful boxing gloves or more new epic gear to box in.
AMAZING GRAPHICS & SOUND
As you box, immerse yourself in adrenaline pumping world of Unreal Engine-powered graphics and realistic motion-captured animations.
ENGAGING SOCIAL FEATURES
Win amazing boxeo prizes with Daily Rewards the Daily Spin. Also, how is your fight game? Check before the big fight night begins! Compare scores & challenge friends.