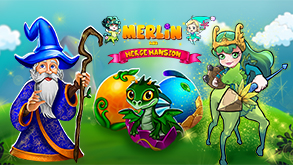 Merlin and Merge Mansion
Travel to a Cloud Castle 🏰, help Merlin and Morgana to restore a Magic Academy ✨, become friends with wondrous, fantastic creatures 💖 and decorate your very own fantasy mansion in one of the best merge games: Merlin and Merge Games 🏆.
Merge furniture in your mansion, merge dragons, merge magic gems to solve puzzles, and decorate in Merlin and Merge Games. So many merge games await! Everything you merge helps to lift the curse from the Mansion that you can decorate after that.
Save and merge magic creatures: mages, centaurs, griffins, dragons, and many others, so they could help you in your quest of building a Magic Academy.
A huge number of things to merge: chairs, tables, lamps, sofas, bookcases, and tens of other types of furniture and decorations. You can also merge magic creatures! Merge dragons! Merge magic gems! Merge everything you want!
Merlin and Merge Games is not just another merge game, it's a unique combination of the features where you can design magic academy, merge dragons, merge items in your mansion, play match-3 games, complete quests, grow a magic tree, and many other puzzle games.
Even if you don't like to merge dragons or merge magic gems, you still can collect other cutest creatures ever in Merlin and Merge Games.