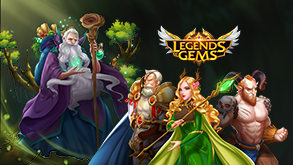 Legends Of Gems
🔥Legends of Gems is a new approach to the match-3 puzzle games, combining puzzle RPG elements with empires war, majestic dragons, puzzle quest and PvP duels. 🔥
🔥 Start your classic fantasy adventure and defend your empires today! 🔥
Match 3 RPG
Send your legendary heroes to the victory with match-3 battles & creating epic combos in this fantasy puzzle quest!
Puzzle RPG Adventure
Collect epic heroes & dragons an epic adventure in the majestic world of this puzzle RPG!
Puzzles and Dragons
Lead your mighty troops to victory by summoning legendary dragons to help your summoner!
Empires at War
Marvel at the detailed monsters, and exciting arena battles while controlling puzzles and dragons for your empires in this classic fantasy adventure!
Heroes & Empires
Summon epic heroes & dragons and lead your mighty troops to victory PvP arena duels!
Mighty Castle
Build a mighty castle in the sky, where you can farm resources for your empires! (Feature coming soon!)
Collect Epic Heroes
Build your mighty troops, strengthen your empires & marvel at their growth while you AFK in the arena!
Alliance Events
Lead your empire & legendary heroes to become to the top alliance in PvP duels & exciting alliance events! 🔥(New feature!)🔥
🔥 Legends of Gems is a free fantasy game with a new approach on role playing games (RPG), fantasy battlers, combining epic match 3 duels, puzzle quest and mighty castle building – all that topped with legendary PVP duels full of magic and action. Become a Hero and build your empire now! 🔥
Requires Android 5.0 and above.