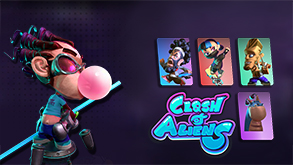 Clash Of Aliens
Your main tower is under attack! Become a leader and defender your tower from the invading aliens, like Tiny Eye, Digger, Predator and more in CLASH OF ALIENS!
Come up with a strategy! Summon your hero and build a strong team, defender your tower and you will be the winner with the aid of matrix.
We've got clone, death blast, swap life and more for you in these matrix shapes. Choose some appropriate Matrices to enable powerful effects for your alien team.
Make good use of the resource in every turn provided. Prepare enough hero defense energy and strategy for your tower. Destroy opponent's towers and win in Clash of Aliens!
Are you ready to become the Greatest Hero in the Clash of Aliens? Lead your alien team to glory now!
FEATURE:
OUTSMART ENEMIES: Choose a unique alien team as you attack and defend both computer and live players.
DIRECT CONTROL: Clash in real time, controlling heroes and troops with swipe and click.
COMPETITIVE PLAY: Rebuild the alien order. Plan, attack, and defend for the victory.
INTUITIVE CONTROLS: Easy to learn and fun to master. Quick thinking beats quick fingers.
REAL-TIME TACTICS: Choose your next move quickly to turn the tide of battle.
MULTIPLE OPTIONS: Mix and match aliens and matrix shapes for endless team combinations.
Download Clash of Aliens and start planning your next attack! The epic battle waiting for you to fight!